SAMUEL DOE: First World Leader To Be Turtored And Murdered Live On Camera.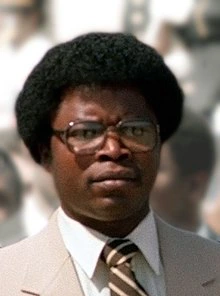 (If you find this post interesting, please subscribe to this platform to get updates delivered stright to your email.)
Samuel Kanyon Doe was once a a Liberian
Military Head of State and later a civilian
president from 1980 to 1990. He was a master
sergeant in the Armed Forces of Liberia, Doe
staged a violent coup d'etat in April 1980 that
left him de facto head of state.
In 1980, Samuel Kanyon Doe, a 28-year-old
Master Sergeant, assumed power in Liberia in a
blaze of glory. In a surprise night-time attack on
the Executive Mansion overlooking the Atlantic
Ocean. Doe and his accomplices brutally
murdered President William R. Tolbert Jr.
When Master Sergeant Samuel Doe burst onto
the political scene, he put an end to the
standoff
between President William R Tolbert and the
young progressives who were seeking an end to
the century-old political oligarchy
During the coup, then president William Tolbert,
and much of the True Whig Party leadership
were executed. ending 133 years of rule by
black American settlers and their descendants
known as Americo- Liberians. Doe then
established the People's Redemption Council,
assuming the rank of a General.
Shortly after the coup, government ministers
were walked publicly around Monrovia in the
nude and then summarily executed by a firing
squad on the beach. Hundreds of government
workers fled the country, while others were
imprisoned.
Thirteen members of William Tolbert Cabinet
members were publicly executed ten days after
the coup.Other public demonstrations were
made to show his power and humiliate Tolbert's
people before killing them
Samuel K Doe was a shy soldier, from the
bottom of the army. He did not know much
about politics and could hardly read his
speeches. He brought into his first cabinet the
progressists and put them in charge of key
ministerial positions. But the honeymoon did not
last. Very soon all of them were shown the door,
one after the other. From flirting with "African
Revolution" as per Libya Gaddafi or Ethiopia
Mengistu, The whole nation turned out to
congratulate and embrace the "first son of the
soil to ascend to the presidency.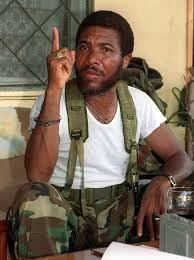 But soon, Doe became the defender of
capitalism against socialism although he had
i
no Idea what either concept stood for. He
eliminated all dissent around him, killing all his
companions using fake coup attempts as an
excuse. In 1985, after the failed Quiwonkpa
invasion, he proceeded to purge the army,
turning it into a tribal militia for his sole
protection. Surrounded by his tribal army, he
became arrogant. He felt untouchable because
he had created and lodged an entire battalion in
the Executive Mansion. When he drained the
economy, the US sent a technical team to help
clean the national finances, but he kicked them
out. He was feeling invincible. The US suddenly
discovered that it had created a bloodthirsty
monster. He had a jet with his name on it.
Doe suspended the constitution and headed the
country's military junta for the next five years.
In 1985, in an attempt to legitmatise his regime,
he ordered an election and officially became the
The election was marked by controversy as
there was evidence of election fraud, Doe had
support from the United States It was a
strategic alliance due to his anti-Soviet stance
taken during the years of the Cold War prior to
the changes in 1989 that led to the dissolution
of the Soviet Union.
Samuel Doe, was the first native head of state in
the country's history. He was a member of the
Krahn ethnic group, a largely rural people.
Before
the 1980 coup, natives had often held a
marginal role in society, which was dominated
by the descendants of the Americo-Liberian
Pioneers; composed primarily of free-born
American blacks and freed slaves.The Pioneers
were the immigrants who had established
Liberia in the 1820s and led the country
beginning with independence in 1847.
However, In the late 1980s, as the US
government adopted more fiscal authority and
the declining threat of Communis coup with the
waning of the Cold War, the U.S. became
disenchanted with the entrenched corruption of
Doe's government and began cutting off critical
foreign aid. This, combined with the popular
anger generated by Doe's favoritism toward
Krahns, placed him in a very precarious
position.
Thus the emergence of various opposition
groups culminating in the end of Doe's eventual
dictatorial rule.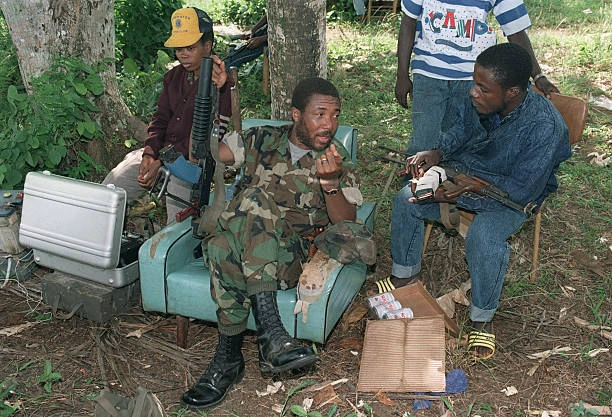 Charles Taylor, a former ally of Doe, crossed into
Liberia from Ivory Coast on December 24, 1989,
to wage a guerilla war against Doe. Taylor had
broken out of a jail in the United States, where
he was awaiting extradition to Liberia on
charges of embezzlement. The conflict quickly
flared into full- full-fledged civil war. By mid-
1990, most of Liberia was controlled by rebel
factions.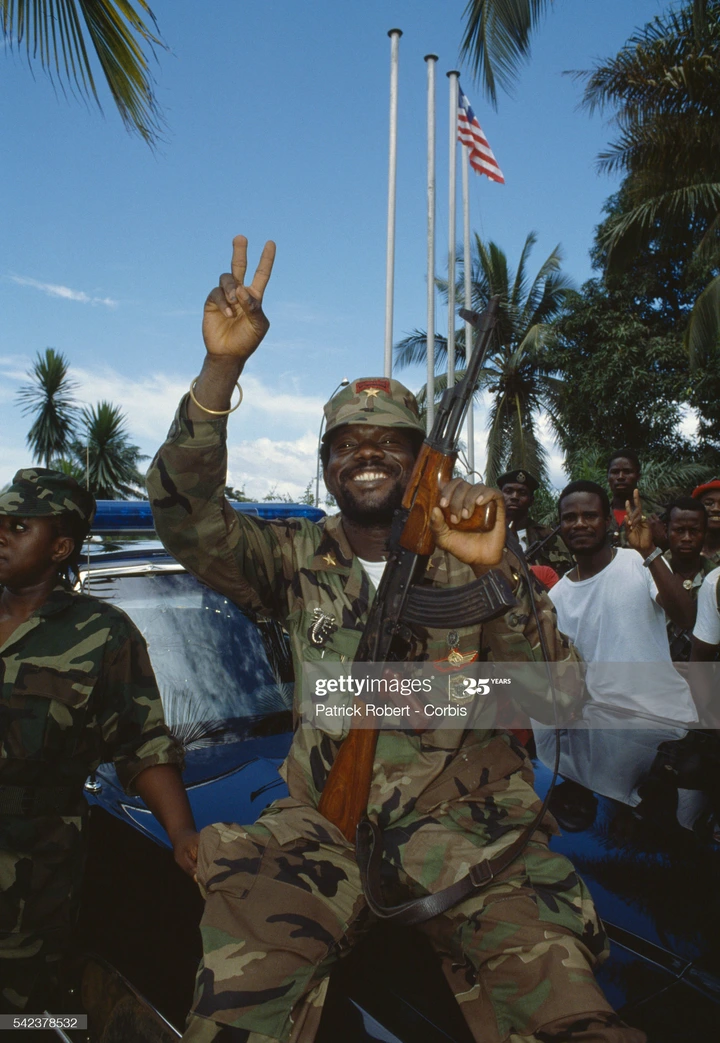 Ironically, his previously unwavering support
from the United States evaporated and, as
Liberia erupted into civil war, Doe was left
vulnerable.
Doe was captured in Monrovia on September 9,
1990, by Prince Y. Johnson, leader of INPFL, a
breakaway faction of Taylor's NPFL.
General Quinoo, the head of ECOMOG, had
invited Doe to the ECOMOG headquarters for a
meeting and assured him of his safety from the
rebels. On the morning of September 9, 1990,
Doe arrived at a precarious time during an
ongoing change in guard duty from the well-
armed and better equipped Nigerian team of
peacekeepers to the weaker Gambian
contingent. The Nigerian team had just
withdrawn from the scene when Doe's convoy
of
lightly armed personnel arrived, none of whom
were anticipating any trouble.
Doe was escorted to General Quinoo's office
where he was formally welcomed, while most of
his team of aides and guards waited outside.
Johnson's rebels surprised everyone by
suddenly arriving on the scene uninvited and
heavily armed, overwhelming and disarming the
entirety of Doe's team while encountering no
resistance.


5)They then started shooting Doe's team
individually and later in groups. Upon hearing
the gunshots from outside, Doe expressed
concern to Quinoo, who assured him that all
was fine. Quinoo later excused himself to check
on what was happening outside and was
followed by his aide, Captain Coker of the
Gambian contingent. Both men took cover upon
assessing the situation. Johnson's men moved
indoors, finished off Doe's remaining team, shot
him in the leg, and took him captive. When the
dust settled, over 80 of Doe's men lay dead.
Coker characterized the incident not as a fight,
but a brutal massacre.
Remarkably, none of the ECOMOG personnel
were shot in the carnage. Which left many
observers of the event spinning theories of
conspiracy by ECOMOG facilitated by foreign
powers and the then military head of state of
Nigeria, General Ibrahim Babangida (IBB).
Doe was was taken by the rampaging rebels
before Johnson They stripped him naked
except
for his underpants and made a video recording.
In the video, Doe is sitting on the floor and one
of his tormentors holds a microphone to his
face. He begs Johnson for his life:
"Yomi, two people fight, one win. Spare me,
please." Johnson sternly tells Doe, "Don't f**k
with me!"
As shown in the video, Johnson lords over the
gruesome scene of a room filled with rebels,
sitting calmly sitting on a swivel chair
underneath a picture of Jesus. On one hand, he
holds a walkie talkie and the other, a Budweiser.
6)On the other side, Doe sits on the floor
begging for his life. The camera oscillates
between the two scenes. At some point, the
rebels held him back as one of them cuts off
his
ears as Johnson directed. As shown in the
video, prince Johnson ate one of the ears raw.
He does it almost casually, and when Doe is
allowed to sit up again, he is earless and
bleeding onto his naked body. They also cut off
some of his fingers and toes.
Doe dies after 12 hours of torture at Johnson's
hands.
His corpse was exhibited naked in the streets of
Monrovia, the corpse had its head shaved.
Doe's
body was later exhumed and reburied. The
spectacle of his torture was video-taped and
seen on news reports around the world.
Samuel Doe who years back televised the
execution of Tolbert government executives on
a beach became the first world leader to be
tortured on camera before being executed and
his body desecrated. This retributive justice
should have brought the nation full circle, but it
did not. More violence under Taylor would kill
more Liberians.which led the country into more
tensed and escalated civil war leading to the
deaths of millions.
It was a sad decline for Africa's and a negative
politicalfirst presentation.